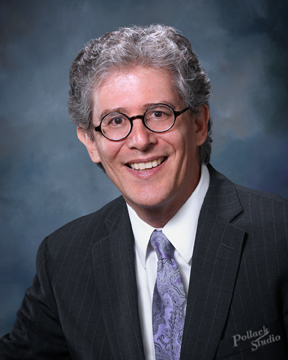 Dear TBS Friends and Family,
This Saturday is our next Prayer Lab, and we will explore our own relationship to the Shema. Join us for this fascinating session as we explore the central prayer in Judaism.
Prayer Lab – Sat. 1/21/2023
After a few fall sessions about our introductory prayers, we now enter a unit for January on the Shma and its blessings. Each session is independent, so folks can come and go as they need to and do not need to attend each session. Join us for bagels, great discussion, and some Torah Study about this week's section, Vayechi as we conclude the book of Genesis. These sessions will be multi-access: both in-person and via zoom.
Clergy Leadership Training
I have been accepted for a prestigious professional development opportunity with the Institute of Jewish Spirituality, called the Clergy Leadership Program. I will be attending this week-long text study and meditation retreat from 1/22 -1/27 with 40 other rabbis and cantors. This program continues for 18 months with 3 other weeklong study retreats. I will be sharing the fruits of these experiences over the next 18 months.
SAVE THE DATE  – Tu Beshvat Potluck Seder Lunch – Sat 2/4 at noon
On Saturday, 2/4, after our Prayer Lab, we will have a special potluck dairy lunch and Tu Beshvat Seder. Tu Beshvat is the new year of the trees, and is a type of Jewish Earth Day. TBS will provide the bagels, nuts, fruits and juices, you bring the salads, sides and desserts! All are welcome!
TBSBrotherhood
The TBS Brotherhood welcomes new members, young and young at heart. We sponsor social events, fundraisers and building beautification projects to support and enhance the TBS community. We meet throughout the year in the spirit of friendship and good humor. For more information, contact Eric Draper @ 216.630.6075.
TBSSisterhood
Let's get together! Breakfast is served at Jeanie Rhodes' house 3036 Vincent Rd, Silver Lake 44224 (330-283-8697).  Sisterhood is catering so nothing to bring except your calendar and ideas. We'll enjoy croissants, "nu-beigels", savories, salad, and hand-made drinks, etc) while we also plan the Hamantaschen Bake!  Saturday January 28th at 9:00 (coffee ready) 9:30 a.m. (breakfast ready) and 10 am (meeting).  Sisterhood is catering so nothing to bring except your calendar and ideas. Come when you can, leave when you must.  RSVP at rrsdmv2@gmail.com or jeanrhodes16th@gmail.com but drop-ins welcome.  We will be planning the Hamantaschen Bake.
Please come to the Hamantaschen bake! We'll bake Hamantaschen at TBS on Sunday February 19th for 9:00 -12:00 (come when you can, leave when you must) as a service project for the TBS children's Jewish Education's Purim party and the TBS Purim Oneg.  Also, we mean to have you take some home for your "Haman-tasch-stasch". Why bake twice?  Dough will be pre-made so it promises to be more relaxed than the Latke fry…RSVP for the bake at rrsdmv2@gmail.com or jeanrhodes16th@gmail.com.
Bingo Night Returns February 11 @ TBS!!
A fun night for all TBS adult members and friends.
A great date night idea for your valentine!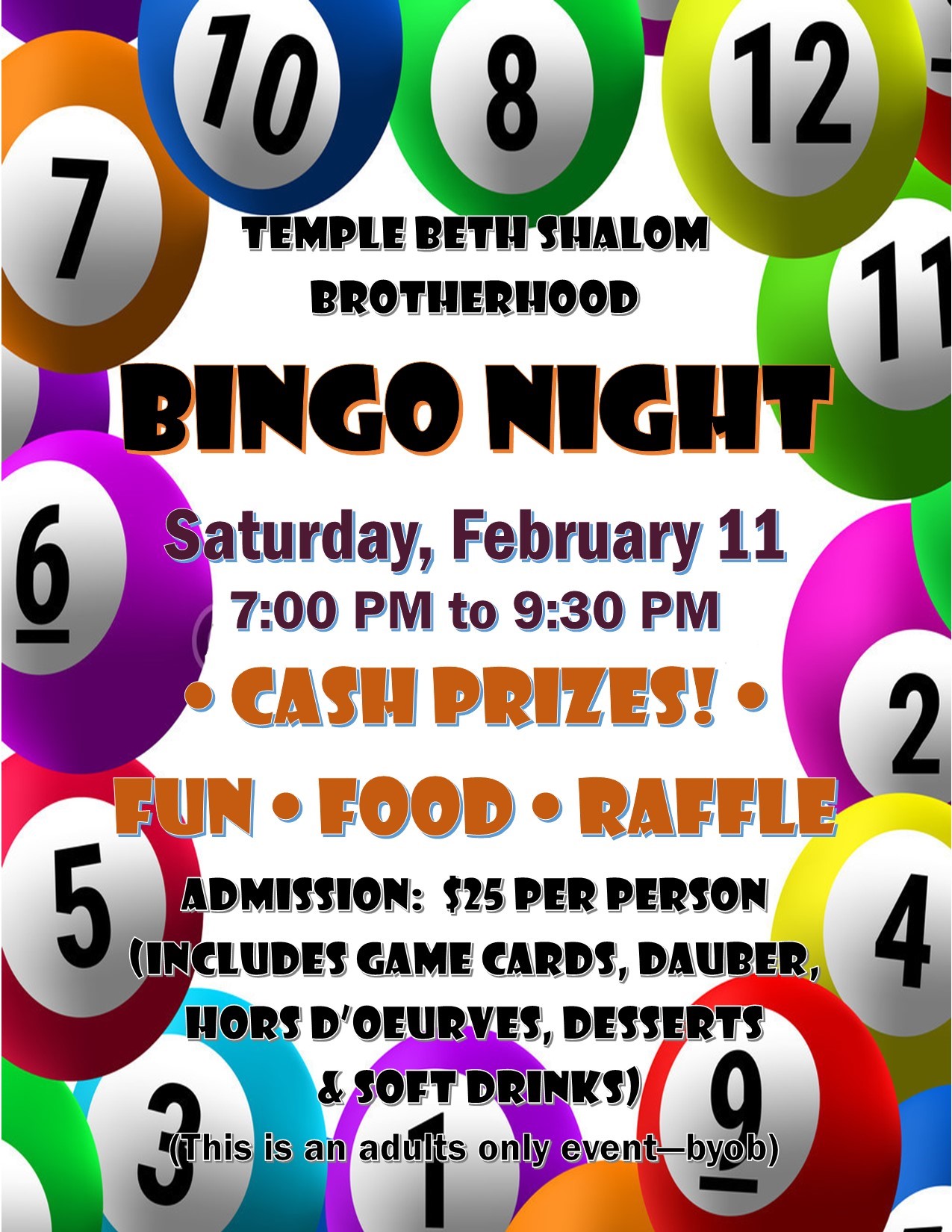 Silent Auction Donations Sought for Bingo Night
If you have an item or service you would like to donate to the Bingo Night silent auction, please text/call Eric Chupack @ 216.402.7262
UPCOMING TBS GATHERINGS
Sat. 1/21/23, Prayer Lab – 9:30 am-11:00 am – Shma and its blessings, part 2 – in-person and zoom
Sat. 1/28/23, Sisterhood Breakfast Meeting at Jean Rhodes, details to follow
Sat. 2/4/23, Prayer Lab – 9:30 am -12:30 pm – Prayer Lab, Potluck Lunch & Tu Beshvat Seder – in-person and on zoom
Sun. 2/5/23, Brotherhood Meeting – 9:00 am
Fri. 2/10/23, Shabbat Service – 7:30 pm – in-person and on zoom
Sat. 2/11/23, Bingo Night – 7:00 pm at TBS
Sat. 2/18/23, Prayer Lab – 9:30 am – in-person and on zoom
Sun. 2/19/23, Sisterhood Hamentashen Baking
Fri. 2/24/23, Shabbat Service – 7:30 pm – in-person and on zoom
Sun. 3/5/23, Brotherhood Meeting – 9:00 am