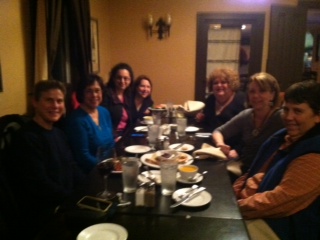 Warming Up a Rainy Night…
Thanks and appreciation go to Frieda Miller Brown for her time and talents in organizing our Sisterhood Dinner out on Tuesday evening.
We gathered at Aurora's Mad Jack's Grill and Pub, and despite the gloomy and rainy weather, a good time was had by all!
Table talk ranged from sharing pet stories, cat photos, popular authors and favorite book titles to the drama unfolding on the TV show Revenge!
This photo features Shelley, Frieda, Rebecca, Robin, Emily, Marcy and Shelley. (Joining us after the photo was taken was "Birthday Girl," Robin Rosen-Sharp).
Sisterhood Gift Basket…
To the sistas who have generously donated to the Ohio-themed gift basket to benefit WRJ's YES FUND, we say THANKS!
There is still time to donate an item or to make a cash donation in support of this project.
Please contact Lisa Singer at LisaSinger@aol.com. If convenient, you can drop-off your item at the TBS office. (Be sure to note Lisa's name on the donation).
Donations of cash and in-kind gifts to charitable organizations are tax-deductible.
Thank you for your support of our Sisterhood and WRJ Central District.
Watch the Schmooze…
Details will be forthcoming for the upcoming "Paid Member" Sisterhood luncheon on Sunday, November 18th.
At this event, we'll be honoring our members and also welcoming Rebecca Egolf.
Reminder: Be sure to submit your membership dues to Robin Rosen-Sharp. You can contact her at rrsdvm2@aol.com.
Yours in Sisterhood,
Emily Audra Fleisher