A Happy Time Was Had By All…
Thanks to the warm and wonderful hospitality of Lisa and Rick Singer, the 2014 Sista and Guest Night was an overwhelming success!
Borrowed from the popular song, the theme of this year's event was HAPPY. That tune greeted every guest upon arrival at the gathering.
In addition to the "happy" food offerings, there were plenty of other enhancements which made the evening fun and memorable for everyone: smiley tattoos; neon bracelets; fun candy; and to "top" it all off… a delectable ice cream bar for dessert!
This photo captures the sistas and guests enjoying a brilliant sunset from the backyard of Lisa and Rick's Medina home. The family pet, Cooper, took the lead and led the group outdoors–all the while commenting, "I haven't seen a sunset like this since our trip to Maui!"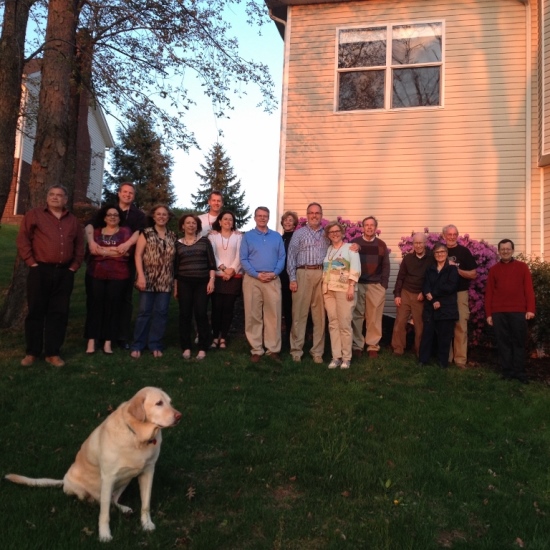 Mitzvah Day Is On The Way!
Here's a community volunteer opportunity that is open to the entire TBS congregation: On Sunday, June 8th, from 11:00 a.m. to 3:00 p.m., Mitzvah Day volunteers will be on hand at the Akron Red Cross to assist with serving a meal to persons in need in our community.
The Akron Red Cross is located at 501 West Market Street, across from The Tangier restaurant.
Please note that while the majority of Mitzvah Day volunteer events will take place on Sunday, June 1st, the Red Cross option has been scheduled for the following Sunday.
Sisterhood member, Kathy Snyder, has graciously volunteered to coordinate the Red Cross volunteer event. She is available to answer questions and to assist with the online volunteer registration. Contact Kathy at katsny0401@yahoo.com.
We're making this a true community event by also inviting our teens/young adults to participate. This is the perfect opportunity to support and enrich our community by giving back and supporting those in need.
Please visit www.mitzvahdayakron.com for complete details about Mitzvah Day 2014. When registering, don't forget to note your tee-shirt size!
Yours in Sisterhood,
Emily Audra Fleisher