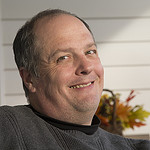 I want to begin by sharing a passage I read from at Shabbat in February:
It is now no more that toleration is spoken of as if it were the indulgence of one class of people that another enjoyed the exercise of their inherent natural rights, for, happily, the Government of the United States, which gives to bigotry no sanction, to persecution no assistance, requires only that they who live under its protection should demean themselves as good citizens in giving it on all occasions their effectual support.
—G. Washington, August 18, 1790
I am struck at this time by the words of our first president and how much pride he expressed regarding the embrace of Jews. I say Jews, yet I believe that Washington spoke of all people who came to our country to establish a new life.
Yet as a national Jewish community we have experienced acts of hatred in recent weeks and months. The weekly bomb threats against JCC's and Jewish day schools are a stark reminder of how far we have to go, regardless of how far we have come. It is hard at this time to read the megillah and not get stuck on the words of Haman:
And Haman said unto king Ahasuerus: 'There is a certain people scattered abroad and dispersed among the peoples in all the provinces of thy kingdom; and their laws are diverse from those of every people; neither keep they the king's laws; therefore it profiteth not the king to suffer them. If it please the king, let it be written that they be destroyed; and I will pay ten thousand talents of silver into the hands of those that have the charge of the king's business, to bring it into the king's treasuries.' (Esther 3:8-9)
Yes, we know what it is to be "a certain people," and know that people are profiting from creating fear and panic. This is especially acute when it is directed at Jewish schools, i.e. places that need to be safe for learning.
As a Jewish community I invite all of us to have a heightened ear for language that names any minority "a certain people." This is not just about the terroristic threats made against our physical safety, it often starts as tolerated hatred and stereotyping in our speech. For while Haman will meet his end (again) this year, his sentiments and thoughts continue to live in those expressions that create fear for any minority.
Let us be among those who diminish fear in our world, country and community.
L'Shalom,
Rabbi Jim