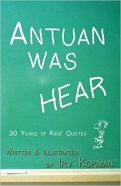 Antuan Was Hear – 30 Years of Kids Quotes
Irv Korman is an author, actor, speaker, theatre critic, magician, and yes, teacher. During his 30 years working within the Akron Public School System, Irv collected an array of memorable quotes from his students. Straight from the inked margins of his tattered lesson plans book, Irv is sharing some of these verbal gems in "Antuan was Hear." "School is a place where you learn." "No it ain't. It's where you get an education!"
The Sisterhood of Temple Beth Shalom cordially invites you to attend our "Lunch and Learn" event as we welcome back Akron author, Irv Korman.
Irv will be highlighting his new book, "Antuan Was Hear- 30 Years of Kids Quotes" which also features some unique cartoon characters and illustrations.
We will be gathering at the Pad Thai in Hudson- located on Route 91 (Darrow Road), just north of Terex Road at 12:30 p.m. on Sunday, June 4th.
Emily Audra Fleisher is happily accepting reservations. Please contact her at emaudra@juno.com on or before May 28th.