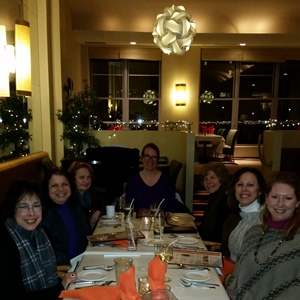 Sisterhood Dinner Out: There's No Stopping Us!
Neither cold temperatures, blowing winds nor drifting snow stopped the "sistas" from enjoying an evening out at Akron's Cilantro Thai & Sushi Restaurant last evening.
Pictured here are Berta, Frieda, Jennifer, Lisa, Stefani, Toby and Wendy.
Special thanks to Frieda Miller-Brown for coordinating all of the reservations!
Save The Date: Our next Sisterhood Dinner Out is scheduled for Thursday, March 19th, at The Office Bistro in Cuyahoga Falls. (Watch the Schmooze for details).
Annual Sista and Guest Night
Lisa and Rick Singer cordially invite you to the foodie event of the year! Mark your calendars for the annual Sista and Guest Night which will be held at their lovely Medina home on Saturday, February 28th, at 6:00 p.m.
This popular event features the very best of our culinary skills and the tastiest adult beverages this side of the Mississippi… thanks to bartender Rick!
For information, contact Lisa at LisaSinger@aol.com.
Lilith Salon… A Springtime Treat
We're all hoping for an early Spring! Come celebrate the season and Sisterhood by attending the Lilith Salon gathering on Thursday, March 12th, at 6:30 p.m. (Site to be determined).
This Salon will feature a discussion of the Winter 2014-2015 magazine issue.
The Lilith magazine describes itself as "Independent, Jewish & Frankly Feminist." More information regarding this publication can be found by visiting www.lilith.org.
Passover Prep
On April 2nd, the sistas will again take to the TBS kitchen for more chopping. No, it's not potatoes! This time, it's apples!
Come join the fun for Sisterhood's Passover 5775 "Charoset Chop!" In preparation for the TBS Congregational Second Seder, the sistas will also have an opportunity to showcase our culinary skills in the preparation of matzoh ball soup.
Watch the Schmooze for future details!
Yours in Sisterhood,
Emily Audra Fleisher