Lilith in the Sukkah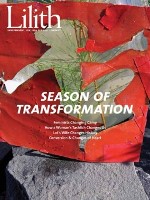 For those sistas who are subscribers to the Lilith Magazine, a special "Lilith in the Sukkah" event is just around the corner! Our congregation president, Kim Strausser, will be hosting the next Lilith Salon at her Hudson Home on Thursday evening, October 9th, at 6:30 p.m.
This special gathering will offer a discussion of articles from the Summer 2014 issue. The magazine's front cover notes "Season of Transformation."
Lisa Singer will be forwarding the articles for discussion via e-mail–just in case you have misplaced your copy! You may request the articles by contacting Lisa at LisaSinger@aol.com or by phone at 330-241-9612.
To reserve your place at the Lilith Salon or to get directions to Kim's home… please contact her at kimmike89@roadrunner.com. (An RSVP by Wednesday, October 8th, would be appreciated).
The Lilith Magazine describes itself as "Independent, Jewish & Frankly Feminist." Those sistas interested in subscribing, call 1-800-783-4903 or subscribe online at www.lilith.org.
We hope to see you there!
Sisterhood Dinner Out…
It's time to celebrate fall, friendship and fun! Please join the sistas for a dinner out event scheduled for Tuesday evening, October 21st, at 7:00 p.m.
We'll be gathering at the popular Mad Jack's Grill and Pub, located at 209 South Chillicothe Road in beautiful Aurora.
You can check out their wonderful menu by visiting Mad Jack's Aurora, OH. (Directions and parking information can be obtained from their website).
Frieda Miller Brown is now accepting reservations. You may contact her at fmillerbrown@msn.com.
WRJ Gift Basket Raffle to Benefit the YES Fund
The WRJ Central District Convention is just a month away! We're all excited about the installation of Lisa Singer and Sandy Adland–both of whom will be assuming positions of leadership within WRJ: Sandy will be installed as Central District president and Lisa will be installed as a new Area Director.
In conjunction with the dinner event on Saturday, November 8th, at the Embassy Suites Airport Hotel in Columbus, there will be a fun and lively Gift Basket Raffle to benefit WRJ's YES Fund.
This year, our Sisterhood has chosen the theme: "Wild, Wonderful & Wacky Ohio." We're reaching out to all of the sistas in an effort to create a unique, creative and filled-to-the-brim basket of goodies!
Ideas include: chocolate/peanut butter buckeyes; a CD of the OSU marching band; Great Lakes Brewery favorites; and Cleveland Indians/ Cleveland Browns theme items and sports memorabilia. Use your imagination!
Those sistas planning to attend the Dinner Out event on October 21st, are encouraged to bring their basket item donations that evening.
All donations are tax-deductible.
Please contact Lisa Singer for additional information.
Mark Your Calendars
Please mark your calendars for the Sisterhood Paid Member Lunch and Program. This special event will be held on Sunday, November 16th. (Additional details will be forthcoming).
The sistas will be gathering to welcome Rebecca Egolf as well as new members who have recently joined us.
The Temple Beth Shalom Sisterhood is comprised of a warm, dynamic and welcoming group of women who are committed to the ideals of Judaism and to supporting and enhancing our congregation and our community.
Our TBS Sisterhood recently was honored with a Special Merit Certificate by national WRJ.
Membership is open to all women in the congregation as well as women in the community who are not members of Temple Beth Shalom. Please contact our Membership Chair Robin Rosen-Sharp at rrsdvm2@aol.com for further information about Sisterhood and to obtain your dues renewal form for the coming year.
Thank you for supporting our Sisterhood!
TBS Sisterhood Book Club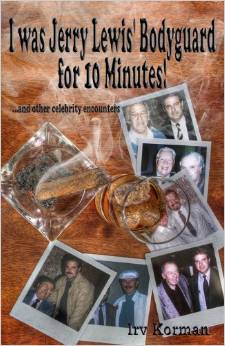 We've chosen a fun and unique book for review in early December. It's called "I Was Jerry Lewis' Bodyguard for 10 Minutes!" Local Akron resident and author, Irv Korman, highlights his encounters with various celebrities, including famed magician, Harry Blackstone, Mary Travers (from Peter, Paul & Mary) and Eddie Fisher, to name a few.
Irv Korman describes himself as a "writer, theatre critic, actor, clown and magician." As an added bonus, Irv will be joining in the discussion that evening!
The Sisterhood Book Club will be meeting on Thursday, December 4th, at 7:00 p.m., at the McDonald's located on Darrow Road–just south of Norton Road in Stow. (We will be gathering in their elegant and private dining area!)
(Please note that outside food and beverages are not permitted).
Contact Schmooze editor Emily Audra Fleisher for further information or to reserve your spot. (emaudra@juno.com).
Yours in Sisterhood,
Emily Audra Fleisher