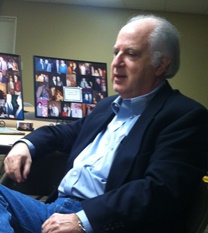 Sisterhood Book Club Updates…
While small in number, last Thursday evening's Book Club gathering provided an opportunity to have an up close and personal dialogue with Akron author, Irv Korman.
He has written two books highlighting his adventures and encounters with notables from stage, screen and television.
Irv shared fascinating insights and "behind-the-scenes" photos and stories about familiar personalities from the entertainment world.
Prior to the book discussion, the sistas got caught-up on news while enjoying a casual and tasty pot-luck dinner.
The book selected for next month's gathering is the novel Gone Girl by author Gillian Flynn. Moema Furtado will be hosting the Book Club on Wednesday, January 14th, at 6:30 p.m., at her home in Hudson.
Rebecca Egolf has volunteered to serve as discussion leader and facilitator.
Perhaps you saw the movie version? Come join us! All sistas are welcome to attend this event.
RSVP to Moema at furtadomoema@yahoo.com.
Don't Forget to Order Latkes!
The Annual Frying of the Latkes takes place this coming Sunday at TBS. The fun starts at 9:00 a.m. Please contact Lisa Singer at 330-241-9612 or via e-mail at LisaSinger@aol.com for further information.
All proceeds from the sale of the latkes go towards supporting our congregation and Sisterhood.
Please support our fund-raiser!
Sisterhood General Meeting…
There will be a general meeting of the Sisterhood at TBS in the Social Hall on Sunday, January 11th. The meeting is scheduled to begin at 9:30 a.m.
Bring your personal calendars and plenty of ideas for events, programming and activities for 2015.
If you're so inclined… bring a nosh to share!
Contact Sisterhood co-presidents, Lisa Singer (LisaSinger@aol.com) or Sandy Ternay (sandy.ternay@sodexo.com) for further information.
Yours in Sisterhood,
Emily Audra Fleisher