Sisterhood Dinner Out:
We'll be "right in the neighborhood" on the evening of Thursday, February 20th when the sistas gather at Hudson's Lager & Vine GastroPub and Wine Bar. Please join us at 7:00 p.m. for a great meal and an opportunity to schmooze! Frieda Miller Brown is happily coordinating reservations. (fmillerbrown@msn.com). Hope to see you there!
WRJ Central District Spring Retreat: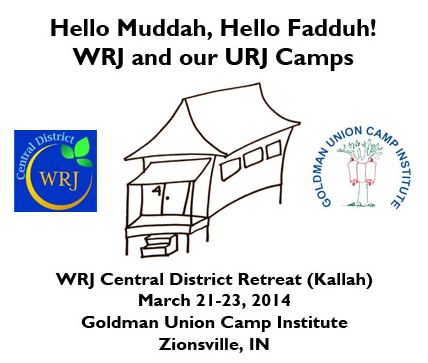 Event planners from the Central District of Women of Reform Judaism (WRJ) are really excited about their upcoming Spring Kallah which will be held the weekend of March 21st in Zionsville, Indiana. This dynamic gathering is open to all sisterhood members and will be held at the Goldman Union Camp Institute (GUCI).
Put away your business attire and come casual to this special event which will feature camper-led Shabbat services, a song session, Israeli dancing, an indoor campfire, Torah study, and plenty of opportunities for sharing and schmoozing with other sistas. The Goldman Union Camp Institute is a very popular camp program. So, whether you want to relive your camping adventures as a youth or you simply want to "check it out" as an option for your son, daughter or grandchildren, your participation will surely be fun and informative!
Attendees have lodging choices of either the GUCI camping site or a local hotel which is in close proximity. For additional information about the Kallah, you may contact Lisa Singer (LisaSinger@aol.com) and Sandy Adland (sandyadland@gmail.com). The following links direct you to:
Save the Date:
TBS Sisterhood members are invited to share their time and talents on Mitzvah Day… Sunday, June 1st at which time we will be supporting activities at the Akron Red Cross. Kathy Snyder has graciously volunteered to be our team leader and coordinator. (katsny0401@yahoo.com).
This non-denominational event brings together a diverse group of area volunteers and provides an excellent opportunity to give back to our community. The Red Cross offers a food bank program in addition to offering meals to persons in need. Event planners are currently holding collaborative meetings. Check out the Schmooze for future updates!
Yours in Sisterhood,
Emily Audra Fleisher