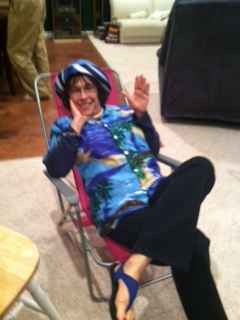 Sista and Guest Night
With a background of surfin' music and Beach Boys tunes, Lisa and Rick Singer again rolled out the red carpet last Saturday night for Sisterhood's annual Sista and Guest Night.
Following the theme of Florida Road Trip: From the Buckeye State to the Sunshine State, folks ignored the not-so-balmy temps and came dressed in their best Florida attire: Bermuda shorts, hats, sandals and a variety of colorful shirts and tee-shirts featuring sunny, tropical themes.
Pictured here is Frieda Miller-Brown, "soaking up the rays" in a sand-chair while dreaming about a future day at the beach!
Bartender Rick kept us all happy with tasty specialty drinks. And, many of the fabulous buffet items were presented with a Florida vibe- such as the Sunshine State's ever popular chocolate coconut patties. Kathy Snyder's jello mold, accented by oranges, strawberries and other tropical fruits, was both artsy and delicious!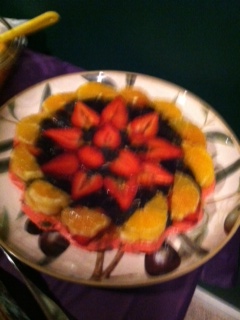 Some really fun and lively "Florida stories" were shared during the evening. Thanks to Bill Brown for sharing his hysterical and nostalgic account of his college Spring Break adventure!
Rabbi Jim Egolf led us in a Havdalah service which was both lovely and inspiring. Thank you, Rabbi.
Lisa and Rick's warm and wonderful hospitality made this event special for all of us! Thank you so much!
Lilith Salon
Please join us for our next Lilith Salon gathering on Thursday, March 12th at 6:30 p.m. at Marcy Caplin's home in Hudson.
Our discussion will focus on three articles from the Winter 2014-2015 magazine issue. (Please refer to the recent e-mail message from Lisa Singer which notes the specific titles).
For anyone interested in facilitating, discussion questions are also available from Lisa.
A pot-luck supper will precede the discussion.
All Sisterhood members are welcome to attend the Lilith Salon. This gathering enables us to share our ideas, perspectives and viewpoints within a very casual and friendly atmosphere.
For purposes of planning, please contact Lisa at LisaSinger@aol.com with your reservation and what culinary treat you'll be sharing with the group.
We look forward to seeing you there!
Sisterhood Dinner Out
Please join us for our second Sisterhood Dinner out event on Thursday, March 19th at 7:00 p.m.
We will be gathering at The Office Bistro, located at 1846 Front Street in Cuyahoga Falls. (Not to be confused with their restaurant of the same name on North Main Street in Akron).
Check out their delicious menu options at www.theofficebistro.com.
Frieda Miller-Brown is accepting reservations at fmillerbrown@msn.com.
Come celebrate Spring with the sistas!
Yours in Sisterhood,
Emily Audra Fleisher