Don't Miss Susan Busch's Book Signing This Saturday!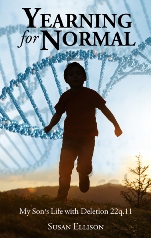 Sisterhood's very own Susan Ellison Busch will be at Hudson's Learned Owl Book Shop (204 N. Main St., Hudson, Ohio) this Saturday, March 15th, to promote her compelling and inspiring personal memoir, Yearning for Normal.
Chase away the winter blahs! Stop by from 1-3 p.m. and say hello to Susan!
For more information, contact Susan at buschwoman3@yahoo.com.
Mark Your Calendars for a Post-Passover Dinner:
The Sistas will be heading over to Akron's West Side for our next dining out event. Come join us for a delicious meal and schmoozing at Papa Joe's in the Valley on Wednesday, April 23rd, at 7:00 p.m.
By the time of our gathering, Passover will be a sweet memory. This will be a great opportunity to share Seder stories and to celebrate Spring!
This popular restaurant, located at 1561 Akron-Peninsula Road (at Portage Trail), offers an extensive menu with reasonable prices.
In order to ensure a private dining space we need a minimum of twenty guests. Emily Audra Fleisher is now happily accepting reservations. (emaudra@juno.com).
We look forward to seeing you there!
Sista and Guest Night 2014:
No other premiere event showcases the Sistas' culinary skills more than Sista and Guest Night! Lisa and Rick Singer are again looking forward to hosting this fun and lively gathering at their Medina home on Saturday evening, May 3rd.
Now's the time to sift through your favorite recipes for this "foodie" event of the year!
Show off your culinary skills; sip some tasty adult beverages; gather for an inspirational end of Shabbat Havdalah service; and enjoy a wonderful evening of hospitality and friendship.
More details will be forthcoming!
Sisterhood Book Club:
The creation of the TBS Sisterhood Book Club is enjoying a very impressive response!
The inaugural gathering will be held at the Hudson home of Stefani Carlson on Thursday, May 8th, at 7:00 p.m., at which time The Septembers of Shiraz by Dalia Sofer will be reviewed.
For questions about the Book Club, or to reserve your spot, please contact Stefani at secarlson5@gmail.com.
Happy Reading!
Yours in Sisterhood,
Emily Audra Fleisher