Be "Chai Plus One"
We now have 18 guests signed-up for our Sisterhood Dinner Out event on Wednesday, April 23rd, at Papa Joe's in West Akron. We'll be gathering at 7:00 p.m. in the private dining area.
There's still plenty of time to make a reservation. Please contact Emily Audra Fleisher at emaudra@juno.com. Come celebrate Sisterhood, friendship, the end of Passover and the beginning of Spring!
Mitzvah Day Options Expanded
In previous Schmooze updates, we've shared information about the community Mitzvah Day event scheduled for Sunday, June 1st.
TBS Sisterhood member Kathy Snyder has advised us that the date for volunteering for the Akron Red Cross has been changed to Sunday, June 8th, at the agency's request. Volunteers are needed from 11:00 a.m. until 3:00 p.m. The Akron Red Cross is located at 501 West Market Street, across from the Tangier Restaurant. (All other Mitzvah Day volunteer opportunities will take place on Sunday, June 1st).
Kathy is available to answer questions and also to assist with online volunteer registration.(katsny0401@yahoo.com) Please visit www.mitzvahdayakron.com for information about all of the volunteer options available and to register. Don't forget to note tee-shirt size when registering!
Highlights From WRJ Central District Kallah
The WRJ Central District Retreat (Kallah) was held the weekend of March 21-23 at the Goldman Camp Institute, commonly known as GUCI, in Zionsville, IN. This year's theme, Hello, Muddah, Hello Fadduh, no doubt triggered memories of Allan Sherman's musical hit from the sixties!
Representing our Temple Beth Shalom Sisterhood were Sandy Adland, Sandy Heymann, Shelley Schweitzer and Lisa Singer.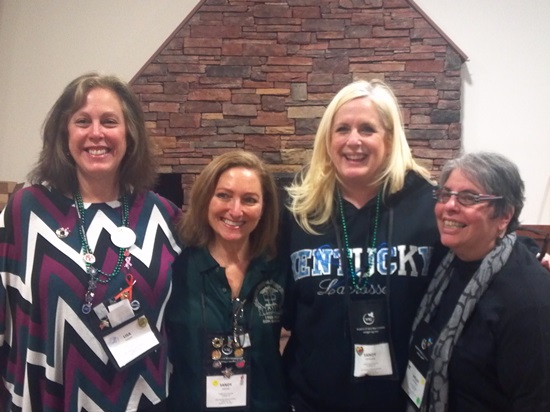 This inspiring Kallah event has been the long-standing dream of Sandy Adland who serves as Central District Vice President. Sandy has been a part of the GUCI family for over twenty-five years; and she was joyous about the chance to share her memories of camp with the women of WRJ Central District.
Shabbat was described as "magical." The Kallah officially began with the blowing of the shofar. The Kabbalat service, held in the Cultural Center, offered inspiring music and prayers. The Shabbat program also included the sharing of highlights and experiences from kids who had spent part of their summers as GUCI campers. Attendees also enjoyed the festive meals, Israeli dancing, a campfire and the traditional campfire story.
Other Kallah activities included learning sessions about URJ camps, various types of social media and the "nuts and bolts" of Sisterhood. A Tikkum Olam project called "Mitzvah of Words" enabled participants to create greetings of compassion and support for the mother of a young camper who was injured by a lightning strike at camp.
There was a fun and lively WRJ Quiz Bowl which mimicked the game show Jeopardy. The Nearly New Purse Auction and other donations to benefit the WRJ YES Fund raised over $2,100.
With plenty of cherished memories, the Women of Reform Judaism Central District participants returned home feeling truly inspired and energized! (Special thanks and appreciation go to Immediate Past Sisterhood president Lisa Singer for providing your Schmooze editor with Kallah event highlights and activities!)
Yours in Sisterhood,
Emily Audra Fleisher