The Party at Papa Joe's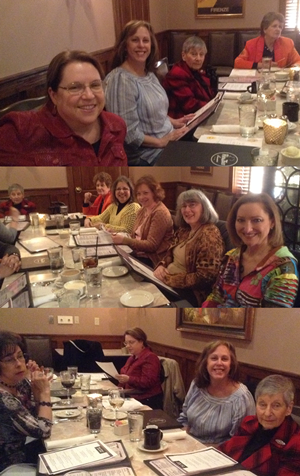 Thanks to Kathy Snyder for capturing the fun at Papa Joe's on Wednesday night! As you can see from the photos, the sistas were all smiles and a good time was had by all!
Sista and Guest Night… Happiness Awaits!
Hosts Lisa and Rick Singer are gearing-up for the foodie event of the year! The ever popular Sista and Guest Night will be held at their Medina home on Saturday, May 3rd at 6:00 p.m.
With a theme of HAPPY, everyone is sure to enjoy the HAPPY cookin' as well as the casual and HAPPY conversations!
Browse through your HAPPY recipe box and bring something special for the group to enjoy. (Appetizers, side dishes, desserts… be creative)!
Show and Tell will be fun. Bring a special memento or share something which makes you HAPPY!
The days are racing by! Call soon and let Lisa know what treat you'll be bringing: LisaSinger@aol.com.
Come join the fun!
Yours in Sisterhood,
Emily Audra Fleisher