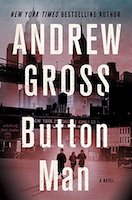 Our next book club selection is "Button Man" by Andrew Gross. We will meet at Mitch's house on Sunday, January 13, at 7 pm. Here's info about the book:
Gross's new historical thriller brings to life the drama of the birth of organized crime in 1930s New York City from the tale of one family.
After a string of New York Times bestselling suburban thrillers, Andrew Gross has reinvented himself as a writer of historical thrillers. In his latest novel, Button Man, he delivers a stirring story of a Jewish family brought together in the dawn of the women's garment business and torn apart by the birth of organized crime in New York City in the 1930s.
This new novel is equal parts historical thriller, rich with the detail of a vibrant New York City in the 1920s and 1930s, and family saga, based on Andrew Gross's own family story and on the history of the era, complete with appearances by real-life characters like mobsters Louis Lepke and Dutch Schultz and special prosecutor Thomas Dewey, and cements Gross's reputation as today's most atmospheric and original historical thriller writer.
"A gut-wrenching, noirish portrait of Jewish organized crime and labor unionism in 1930s New York…These are characters you won't forget… Alternately frightful and fascinating, the story viscerally describes the era, exposing the motives and fears that drive each character and play out on the streets." — Booklist
*****************************
Looking forward to this discussion. My grandfather was a shop steward for the International Ladies' Garment Workers Union, and he met my grandmother on the picket lines for a garment workers' strike in the early 1930s. This book seems like it might have some of my family history in it too.
Rebecca Egolf