In one short month, our temple has the opportunity to participate in an amazing event. The First Congregational Church of Hudson has invited Temple Beth Shalom and the Islamic Society of Akron and Kent to be a part of an observance of the 15th anniversary of September 11th. Together we will work on many projects throughout northeast Ohio from the morning to the afternoon. We will gather for a sending service at 9 AM and return to the First Congregational Church at 5 PM to enjoy a Cultural Food Fest and Celebration. Please sign up and be a part of this incredible service project. Sign up is at http://firstserve.eventbrite.com The opportunity for projects includes Cookies with a Cop, a food drive, collecting all occasion cards and holiday cards, painting and fixing various sites, cleaning up parks, delivering gift bags to fire and police stations and so much more! Check out the web site at the link I indicated in this message and look at the messages posted on our TBS Facebook page, e-Megillah and website. Call or email me if you have questions or concerns! ~Kim kimmike89@roadrunner.com cell 330-289-8098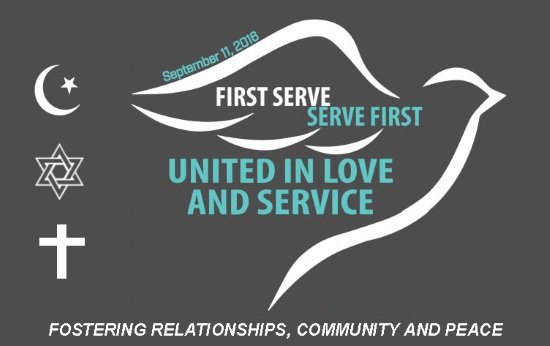 Sunday, September 11, 2016
Join more than 1,000 neighbors
from three faith communities
gathering together to serve NE Ohio
in honor of September 11.
Hosted by:
Islamic Society of Akron and Kent
Temple Beth Shalom – Hudson
First Congregational Church of Hudson
PURPOSE
On the 15th anniversary of September 11, 2001, the Islamic Society of Akron and Kent, Temple Beth Shalom, and First Congregational Church of Hudson commit to rising above fear by uniting in love and service. This year, through the First Serve Serve First service event, our three faith communities will partner with first responders in the greater Akron, Cleveland areas and within Hudson neighborhoods. As we work together with first responders and neighbors, we hope to foster trusting relationships that lead to cooperation, compassion and ultimately peace.
WHO
All are welcome to join in this day of service and support to our communities and first responders. Projects will be available for all ages and skill levels. Bring your family and friends to share in this special event.

First Serve Serve First, the annual church wide service event at First Congregational Church of Hudson, engages people of all ages in a day of service for our communities. Each year on the second Sunday in September, members and friends come together to worship, then separate into crews to go out to work in service to those in need. This year a great collaboration between our faith communities will add to this special day.
WHERE
Our day will begin at First Congregational Church in Hudson. Projects will be located throughout northeast Ohio including areas of Akron, Cleveland, Hudson and Kent. Check the on-line sign up for details.
WHEN
Sunday, September 11, 2016
Sending Service at 9:00 am
Projects begin at 10:00 am
All are welcome to return to the church for a
Cultural Food Fest and Celebration at 5:00 pm
Plan to join us—sign up today!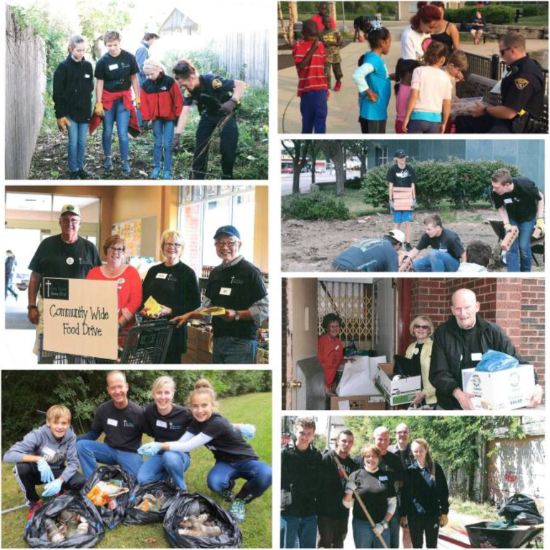 SIGN UP TODAY!
Questions? Call First Congregational Church at 330-650-4048 or email Karen Joshi at
kjoshi@hudsonucc.org