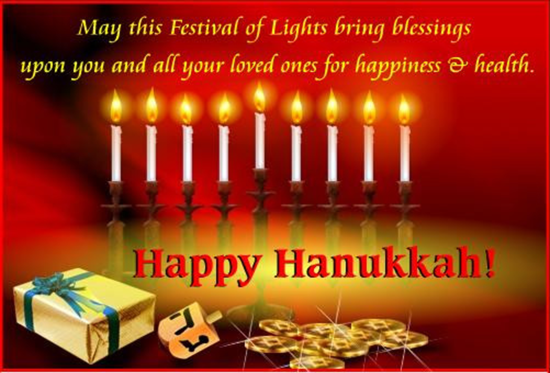 HOLD THE DATES!
The first night of Hanukkah is Sunday, November 28. Though we cannot celebrate together as a full community again this season, we have 2 events planned to celebrate the festival of HANUKKAH.
Please watch for details in upcoming e-Megillah issues.
FRIDAY, DECEMBER 3 7:30 pm
Hanukkah Shabbat Service to celebrate the 6th night of Hanukkah for the Adult TBS community, children who have been vaccinated, and vaccinated friends and guests of TBS. You are welcome to bring your family menorah to light during services. We will supply the candles. Masks are required. The service will also be available on Zoom.
An oneg of latkes, sufganiot (jelly doughnuts) and other delicious treats will be served following services.
SUNDAY, DECEMBER 5
Religious School celebrates the 8th day of Hanukkah with festivities for TBS Tots, all students, and their families.
9:00-10:30 am regular classes for K-7th Grade
10:30-12:00 pm Hanukkah Party for children and their families! There will be singing, playing games, and making crafts. Bring your Hanukkah menorah for lighting during the party. Candles will be provided.
HANUKKAH TZEDAKAH PROJECT-HUDSON FOOD PANTRY
The Hudson Food Pantry, located inside Rejoice Lutheran Church, Hudson, has served 53 families from Hudson and surrounding communities this year. In the months of November and December, they expect an increase of an additional 10 to 20 families to utilize their services. At the Food Pantry's request, Temple Beth Shalom is collecting non-perishables for their families in need. Please bring your donations between Sunday, November 21-December 5, the 8 days of Hanukkah, to the TBS Social Hall or to Sunday Religious School at Hudson City Hall, on November 21 or December 5.
The Food Pantry accepts all non-perishable items, but is requesting toilet paper, hand soaps (bars and liquid pump soaps), deodorant for both men and women, shampoo, toothpaste, feminine hygiene products, dish and laundry detergents and paper towels. These items cannot be purchased with food cards and would have to come out of pocket from the individual or family whose finances are already limited. They also accept all monetary donations. 100% of all donated dollars go toward supplying non-perishable food & supplies to those in need in the Hudson and surrounding communities. For those wishing to donate checks, please make them out to either HCSA Food Pantry or Hudson Community Service Association with a note in the memo section that the amount is intended for the Food Pantry.
Our temple has a long tradition of gathering food & non-perishable donations during the High Holy Days. This local project is a worthy way to teach tzedakah to our children. Tzedakah, often referred to as charity, is "the religious obligation to do what is right and just as an important part of living a spiritual life." Thank you for considering a donation to this worthy cause.