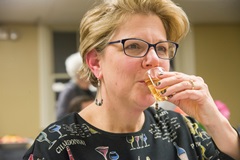 I would like to thank all of you who attended our wonderful community Seder! It was a success because so many of you came and because so many pitched in to help make it happen. I want to extend a very special thank you to Laurie Frankino, who organized and spent many hours planning and setting up everything. Sisterhood and Brotherhood members were on hand Thursday to help with making charoset and to set up the tables and chairs. We have a very busy April at Temple! We have services on April 10th, 17th and the 24th! On the 17th, we will observe Yom Hashoah Remembrance Day and on the 24th, Sisterhood will lead the service. By the way, if you don't have a child in religious school, you are missing a wonderful experience. Every time I am in the building during religious school, I am impressed with all the activities that Stefani and our teachers have planned. A demonstration of matzoh baking from the Matzoh Factory last Thursday was impressive!
Looking ahead to June, I want to remind you that our annual meeting is coming on June 12th, prior to the Shabbat service. We elect our board and we review our finances at that time. I encourage you to contact me or reach out to any board member if you have any questions about what has been happening around the temple and what new things are planned for the next year. You might guess the plans will involve some building improvements. I'm still looking for people interested in a technology group that would like to help support the e-Megillah, the website and our email notifications. Contact me at kimmike89@roadrunner.com or 330-289-8098.
My picture this month is from our recent Brotherhood Wine Tasting event! Yes, I had a great time! Thanks, Ben, for this fun picture and for all the terrific pictures you took that night.
Kim Strausser
President