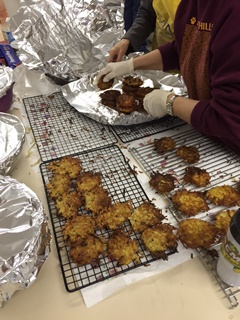 We Put the FUN in Fundraiser!
Last Sunday's Annual Frying of the Latkes was a huge success! In traditional "assembly line" style, the sistas worked their culinary magic to create over fifty seven dozen crispy and delicious potato latkes!
We extend our sincere thanks to Lisa Singer for her awesome behind the scenes organizational skills; for shopping and schlepping our cooking supplies; preparing the seasoning bags AND tracking all of the orders. Lisa, we couldn't have done this without you! Thank you so much!
Sisterhood's latke fry truly requires a team effort. Thank you to the following ladies who shared their time and talents on Sunday: Betsy, Emily, Frieda, Jane, Karin, Kim, Moema, Randy, Robin (Rosen-Sharp), Sandy (Ternay), Terri and Toby.
Proceeds from the latke sale benefit our congregation and the Sisterhood. We sincerely thank everyone who supported our fundraiser! Enjoy!
Sisterhood Book Club
The book selected for next month's gathering is the novel Gone Girl by author Gillian Flynn.
Moema Furtado will be hosting the Book Club on Wednesday, January 14th, at 6:30 p.m., at her home in Hudson.
Rebecca Egolf has volunteered to serve as discussion leader and facilitator.
Perhaps you saw the movie version? Come join us! All sistas are welcome to attend this event.
RSVP to Moema at furtadomoema@yahoo.com.
Sisterhood General Meeting…
There will be a general meeting of the Sisterhood at TBS in the Social Hall on Sunday, January 11th. The meeting is scheduled to begin at 9:30 a.m.
Bring your personal calendars and plenty of ideas for events, programming and activities for 2015.
If you're so inclined… bring a nosh to share!
Contact Sisterhood co-presidents, Lisa Singer (LisaSinger@aol.com) or Sandy Ternay (sandy.ternay@sodexo.com) for further information.
Yours in Sisterhood,
Emily Audra Fleisher