Book Club Sistas: Here's Your Summer Reading: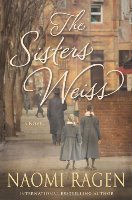 The next gathering of our Sisterhood Book Club will be scheduled sometime before the High Holidays at the Hudson home of Ilene Shapiro.
The selected title is The Sisters Weiss by author Naomi Ragen. Amazon.com describes the story (in part) as follows:
In 1950's Brooklyn, sisters Rose and Pearl Weiss grow up in a loving but strict ultra-Orthodox family, never dreaming of defying their parents or their community's unbending and intrusive demands. Then, a chance encounter with a young French immigrant turns Rose's world upside down, its once bearable strictures suddenly tightening like a noose around her neck. In rebellion, she begins a secret life- a life that shocks her parents when it is discovered…
A date and time will be scheduled soon. Watch the Schmooze for updates!
Mitzvah Day Volunteers Still Needed:
Kathy Snyder is happy to report that several sistas and friends have stepped up to the plate to volunteer at the Akron Red Cross on Sunday, June 8th from 11:00 a.m. to 3:00 p.m.
Just a few more Mitzvah Day volunteers are needed that day to assist with meal service. We invite you to share your time and talents in making a difference in our community.
You may contact Kathy at katsny0401@yahoo.com. Or, visit the Mitzvah Day website: www.mitzvahdayakron.com.
Consult the website for other Mitzvah Day volunteer options available for Sunday, June 1st.
This special opportunity to make a difference is open to the entire TBS family… and friends!
We hope you'll join us!
The Benefits of Joining Sisterhood:
The mission of The Sisterhood of Temple Beth Shalom is to bring together the women of our congregation in friendship to support our community. We accomplish this mission through social and educational programs, fundraising, social action, and involvement with Women of Reform Judaism.
Come join a dynamic group of women… women who are friendly, fun, creative, caring and welcoming!
For information, please contact our Membership Chair, Robin Rosen-Sharp, at rrsdvm2@aol.com.
Yours in Sisterhood,
Emily Audra Fleisher