Making Memories at Moe's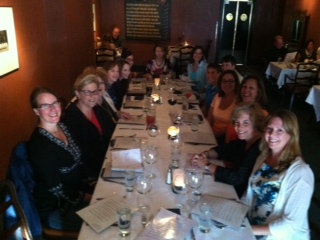 This photo features the fifteen sistas and guests who enjoyed our Summer Sisterhood Dinner Out event on Wednesday evening. Our gathering enabled us to get caught-up on news and happenings and also provided an opportunity to receive updates about future events and activities.
Our thanks and appreciation go to our Sisterhood secretary, Jennifer Kornblum, for her time and efforts in coordinating our dinner and accepting reservations.
Moe's attentive and welcoming staff really rolled out the red carpet for us! A great time was had by all!
Special Thanks
Special thanks to TBS president and sista, Kim Strausser, and her husband Mike Miller for sponsoring the Oneg on Friday, July 11th as we welcomed Rabbi Egolf and his wife Rebecca to our congregation.
It was a wonderfully memorable evening. Thanks, Kim and Mike, for your generosity and kindness!
Sisterhood General Meeting- Save-the Date
Mark your calendars for Wednesday, August 6th at 6:30 p.m. All Sisterhood members are invited to our first organizational planning meeting of the year. The location of the meeting will be noted at a later time.
We extend a warm welcome to all of our sistas and look forward to seeing you next month!
TBS Sisterhood Book Club
Mark your calendars for our TBS Sisterhood Book Club gathering at the Hudson home of Ilene Shapiro on Thursday, September 4th, at 7:00 p.m.
The book to be reviewed is titled The Sisters Weiss and the author is Naomi Ragen. Please visit any favorite book review site for a synopsis of the story.
Contact Ilene at ishapiro1@hotmail.com to reserve your place and to get directions. In the meantime, Happy Reading!
Save the Date for the WRJ Central District Biennial Convention
Lisa Singer and Sandy Adland are excited to report that plans are underway for the Women of Reform Judaism (WRJ) Central District Biennial Convention. The sistas will be gathering from November 6th through the 9th in Columbus.
At this event, Sandy will be installed as WRJ Central District president; and Lisa will be installed as Northeast Area Director. This is a brand new position for Lisa. WRJ welcomes two new affiliates: Canton and Youngstown. These cities, coupled with Akron and Hudson, will comprise the new Northeast District.
Guest speakers at the Biennial will include Pat Blum, WRJ Secretary and Rabbi Marla Feldman, WRJ Executive Director.
Watch the Schmooze for further details!
Yours in Sisterhood,
Emily Audra Fleisher