Sisterhood Dinner Out-A Luscious Location
Tired of burgers, hot dogs and picnic fare? If you're ready for an evening of memorable dining, then do join the sistas for our Sizzling Summer Dinner Out Event on Wednesday, July 16th at 7:00 p.m.
Located at 2385 Front Street in Cuyahoga Falls, Moe's Restaurant has been a favorite of locals for a long time.
Guests may select options from either the Dining Room or Tavern menus.
You can check out Moe's delectable offerings (and also obtain directions) from their website: www.moesrestaurant.com.
Ample parking is available adjacent to the restaurant.
Reservations are currently being accepted by Jennifer Kornblum. You may contact her at JLH4000@aol.com or call 330.321.6370.
Let's celebrate summer and Sisterhood! We hope to see you there!
Sisterhood Book Club Update
We previously shared a brief synopsis of the book The Sisters Weiss by Naomi Ragen. There's still plenty of time to read the book in advance of our 7:00 p.m. gathering at the home of Ilene Shapiro on Thursday evening, September 4th.
Please contact Ilene at ishaprio1@hotmail.com to reserve your place and also to get directions.
Happy reading!
Mitzvah Day(s) Wrap-Up
Sisterhood wishes to sincerely thank the following ladies who donated their time and talents in helping to make Mitzvah Day 2014 a success: Jane Grover, who volunteered at the Battered Women's Shelter, and the terrific trio of Barbara Rosenthal, Robin Selinger and Kathy Snyder, all of whom volunteered at the Akron Red Cross.
Joined by many community volunteers, the photo features Kathy (front/center) and Robin (front/right).
Thanks to all the sistas for taking time to give back to our community! Your efforts are appreciated!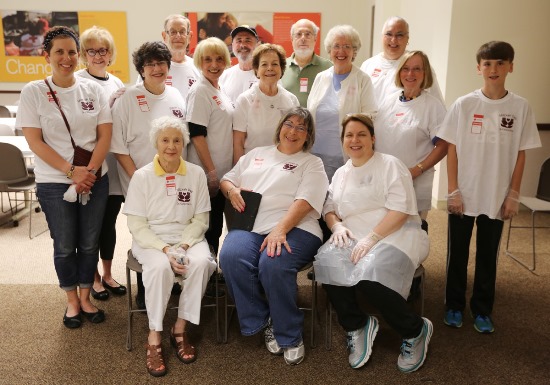 Sisterhood Honors Rabbi Ezring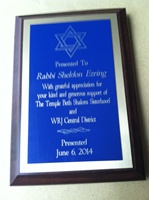 On Friday, June 6th, our congregation hosted a special farewell dinner and Oneg for Rabbi Ezring. Among the many expressions of appreciation and gratitude that evening was the presentation of a plaque from our TBS Sisterhood in appreciation for Rabbi Ezring's support of Sisterhood and the WRJ Central District.
Thanks and Mazel Tov, Rabbi Ezring! We wish you the very best as you embark on your retirement!
Yours in Sisterhood,
Emily Audra Fleisher