And, A Great Time Was Had By All…
We wish to acknowledge Jennifer Kornblum for all of her time and efforts in organizing, tracking and accepting reservations for Sisterhood's Sizzling Summer Dinner Out at the Twisted Olive last Thursday.
Door prizes, donated by Lisa Singer and Emily Audra Fleisher, added to the evening's festivities and fun!
This photo features most of the sistas who gathered that evening. The guests included: Marcy C., Stefani C., Jodi F., Wendy H., Beth M., Amy M., Robin R-S., Lisa S., and The Sensational Shelley Trio: Shelley J., Shelley S., and Shelley Schweitzer from Canton.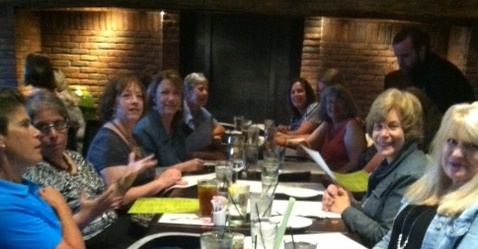 Miles and miles of sistas and smiles!
Also joining us for the evening were Diane and Emily, guests of Sisterhood president Robin Rosen-Sharp.
Thanks to everyone who came to dine, drink, schmooze and celebrate Sisterhood!
Please mark your calendars for 7:00 p.m. Wednesday, September 16th for the next Sisterhood Dinner Out. We'll be dining at Hudson's Lager & Vine. Hope to see you there!
Sisterhood General Membership Meeting
Come give a warm welcome and Mazel Tov to our new Sisterhood president, Robin Rosen-Sharp, as she leads her first Sisterhood General Membership meeting on Thursday, August 20th, at 7:00 p.m., in the TBS Social Hall.
Come and learn about all of the dynamic and exciting events and activities already on the calendar for the remainder of 2015 and into the New Year, including our Sisterhood "Paid-Up Membership" luncheon; our Sisterhood/Brotherhood fundraiser to benefit TBS: Night of a Thousand Noshes & Silent Auction; Book Club; Lilith Salon gatherings; our famous Latke Fry; as well as exciting WRJ Central District events and happenings!
Sisterhood will be providing pizza and salad. Attendees are asked to bring desserts or wine.
Kindly contact Robin at rrsdvm2@aol.com to indicate your availability and to note what you'll be bringing to the meeting.
Every member counts. Thank you for your support of our Sisterhood!
Sisterhood/Brotherhood Religious School Welcome Event Planned
Last year's reception welcoming back the parents and families of our TBS Religious School was a huge success!
This year, we're making the celebration even bigger and better!
All sistas and bros are invited to join the Sisterhood and Brotherhood on Sunday, August 30th, at 9:30 a.m., at TBS, for our gala 2015 Welcome Back reception.
For additional information, contact Stefani Carlson, TBS Religious School Director, at education@tbshudson.org, or Sisterhood president Robin Rosen-Sharp at rrsdvm2@aol.com.
Enjoy the rest of the summer!
Signing-Off,
Emily Audra Fleisher
Sisterhood Schmooze Editor
July 2013-August 2015