Sisterhood is on a Roll!
Sisterhood extends its thanks and appreciation to Sandy Ternay for her warm and gracious hospitality last evening.
With a background of the relaxing waterfall and lush landscape, the sistas gathered to plan an exciting schedule of activities and events for the months ahead.
Our Sisterhood consists of dedicated, talented and committed women who are passionate about Sisterhood, our congregation, the community at large and about WRJ (Women of Reform Judaism).
We welcome the input, feedback and participation of all women in our congregation. Additionally, we are looking forward to collaborating with the TBS Brotherhood in the coming months!
Our planned events include our immensely popular dinners out; the Sisterhood Book Club; Lilith Salon gatherings; a broad-based social action program; a "paid member" Fall luncheon; our annual fun and lively Latke Fry and our equally fun and lively Sista and Guest Night… to name a few!
Future Schmooze articles will highlight each and every event. So, be sure to mark your calendars! And, then come join us!
A Brief Look-Back…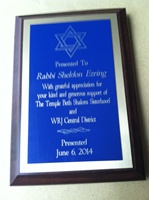 Many congregants and friends were on hand last June 6th when TBS honored Rabbi Sheldon Ezring on the occasion of his retirement.
From the Bimah, immediate past Sisterhood president Lisa Singer highlighted the many ways that Rabbi Ezring supported our Sisterhood and WRJ Central District during his tenure as our spiritual leader.
Whether he was presenting at a WRJ Central District Shabbat; sharing d'var Torah; or stopping by TBS with a friendly hello on Latke Fry day, his support was unwavering and truly appreciated.
In addition to the plaque, TBS Sisterhood provided a donation to the WRJ YES Fund in honor of Rabbi Ezring.
Following receipt of the commemorative plaque, Rabbi Ezring shared the following with Lisa: "I will treasure the plaque Sisterhood presented to me and even more your kind words. God bless you." Signed, Rabbi Sheldon Ezring.
We extend our good wishes to Rabbi Ezring for a healthy, happy and fulfilling retirement!
Religious School Welcome Event Planned for Families and Students
Sisterhood and Brotherhood leadership are planning a warm welcome reception for TBS Religious School parents and students on Sunday, September 7th.
This is Opening Day for the Religious School and TBS is preparing to roll out the red carpet!
Parents/families will gather with their sons and daughters in the Sanctuary beginning at 9:00 a.m. This welcome event will feature a bagel and lox breakfast and a unique and inspirational "Back-to-School Kit" for each of the students.
Lisa Singer has graciously volunteered to coordinate assembly of the welcome kits. More details will be forthcoming.
Sisterhood Book Club
Ilene Shapiro is poised and ready to host our TBS Sisterhood Book Club gathering on Thursday, September 4th, at 7:00 p.m.
The book to be reviewed is The Sisters Weiss by Naomi Ragen.
Contact Ilene at ishapiro1@hotmail.com to reserve your place and to get directions. Happy reading!
Yours in Sisterhood,
Emily Audra Fleisher