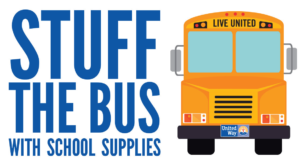 We have to opportunity to again partner with our brethren from the Congregational Church and the Islamic Center of Akron, as well as many other faith and civic organizations, with FirstServe on Sunday, Sept. 8, from 9am to 6pm. More information on the attached document or at joinfirstserve.org. Signup instructions will be sent out soon.
Right now we have an effort called Stuff-the-Bus.
We are partnering with United Way of Summit County in an effort to provide a backpack of school supplies for every student at Findley CLC. The total goal is to fill 588 backpacks on Sunday, August 18. Our goal for Temple Beth Shalom is to donate at least 20 backpacks. Please consider donating items from the supply list. There is collection bin downstairs at Temple Beth Shalom. You may also make a monetary contribution. $10 will provide supplies for one backpack. $240 will provide supplies for an entire classroom. Please make checks out to FCCH, Memo line: Stuff the Bus. Or you can donate online at joinfirstserve.org, select "Stuff the Bus Monetary Donations".
SUPPLY LIST (fills one backpack):
10 Pens
10 #2 Pencils
2 Large Erasers
1 Pack of Crayons (24 count or more)
1 pack of Markers
4 Folders
2 Glue Sticks (not jumbo)
1 Package of Notebook Paper or 2 Spiral Notebooks
1 Pencil Case or School Box
Dates to Remember:
July 7 – August 11: Collection Period. Collection bin at Temple Beth Shalom and other locations
August 18: Fill Backpacks: At First Congregational Church, 47 Aurora St, Hudson.starting at 10am
August 26: Delivery to Findley CLC
Thanks,
James Field
Cell 330.962.7462