Dear TBS Friends and Family,
I want to thank everyone for coming out to our amazing Chanukkah Service! It was such a joy to fill the pews with your smiling faces as we lit the candles, and formally announced Brady Weinstein's Hebrew name.
I am on vacation this week so let me wish each of you a wonderful holiday season and a Happy New Year! Let's hope 2023 is filled with health, hope and an open heart.
Prayer Lab – Sat. 1/7/2023
We had an amazing turnout last time, and I look forward to this group growing and developing.
Each session is independent, so folks can come and go as they need to and do not need to attend each session. Join us for bagels, great discussion, and some Torah Study about this week's section, Vayechi as we end the book of Genesis. These sessions will be multi-access: both in-person and via zoom.
Wine,  Cheese, & Chocolate Oneg Social
Join us for a special Wine & Cheese Oneg Social following services on Friday, January 13. Everyone is invited to bring a bottle of wine (or other beverage) with a special meaning to them for people to taste. Share its story (from a wedding, place visited, first date, favorite label). Bringing a beverage is not required and we will have our usual selection of non-alcoholic beverages available. The service will be shorter to allow more time to socialize and get to know one another. Brotherhood will provide the cheese and hors d'oeuvres.
Bingo Night Returns February 11 @ TBS!!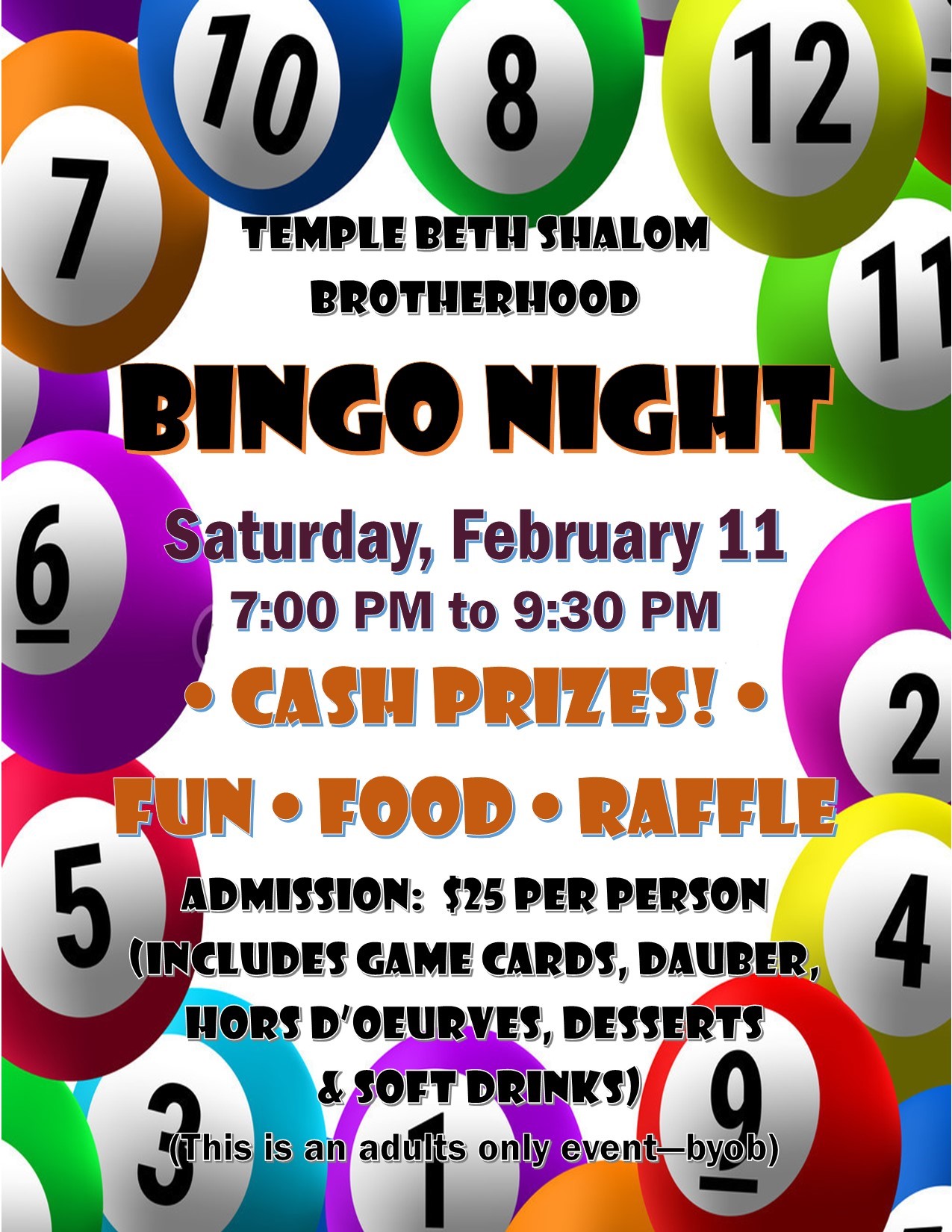 UPCOMING TBS GATHERINGS
Sat. 1/7/23, Prayer Lab – 9:30 am – 11:00 am – Shma and its blessings, part 1 – in-person and zoom
Sun. 1/8/23, Brotherhood Meeting – 9:00 am
Fri. 1/13/23, Shabbat Service 7:30 pm – shortened services followed by Oneg & wine tasting – in-person and on zoom
Sat. 1/21/23, Prayer Lab – 9:30 am – 11:00 am – Shma and its blessings, part 2 – in-person and on zoom
Sat. 2/4/23, Prayer Lab 9:30 am – in-person and on zoom
Fri. 2/10/23, Shabbat Service 7:30 pm – in-person and on zoom
Sat. 2/11/23, Bingo Night 7:00 pm at TBS
Sat. 2/18/23, Prayer Lab 9:30 am – in-person and on zoom
Fri. 2/24/23, Shabbat Service 7:30 pm – in-person and on zoom