OOH LA LA… LATKES!
Get ready for Sisterhood's hottest and most sizzling event of the year! Our Annual Frying of the Latkes will take place on Sunday, December 14th at TBS.
Pre-order forms are available in the Sanctuary, or click here to download a form. Order soon – order lots – but order by December 8th!
For additional information, please contact Sisterhood co-president Lisa Singer at LisaSinger@aol.com or call 330-241-9612.
Attention Sistas: Volunteers are needed for the Latke Fry. Whether you can donate one hour or three hours of your time, come fry, socialize and schmooze with your friends! The fun starts at 9:00 a.m.
Proceeds from the sale of the latkes go towards supporting our Sisterhood and our congregation.
Sisterhood General Membership Meeting
Be sure to mark your calendars for our first Sisterhood General Membership meeting for 2015. We'll be gathering on Sunday, January 11th, at 9:30 a.m. in the TBS Social Hall.
Bring your personal calendars and your great ideas for programming options, events and activities for the coming year!
And, if you're so inclined, feel free to bring a nosh to share!
All are welcome! Please join us!
Follow-Up From WRJ Central District Convention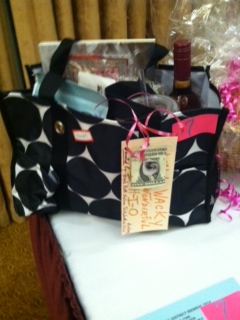 This photograph features the glorious Ohio-theme basket that our TBS Sisterhood donated at last month's WRJ Central District convention in Columbus.
Thanks and appreciation go to all of the sistas who contributed to this lovely basket- which was filled to the brim with goodies!
Our basket fetched an impressive $150.00. All proceeds from the sale of the auction items benefitted the WRJ YES FUND.
Sisterhood Book Club Announces January Title
The thriller novel Gone Girl by American author Gillian Flynn has been selected for discussion at the next Sisterhood Book Club meeting in January. Moema Furtado has graciously offered to host the gathering at her Hudson home.
The film version came out this past fall and received a lot of attention!
Watch the Schmooze for future details.
Yours in Sisterhood,
Emily Audra Fleisher