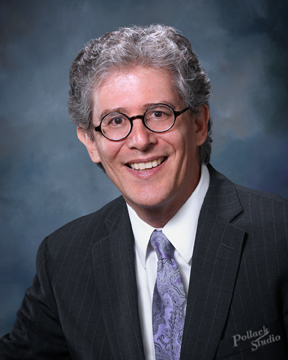 Dear TBS Friends and Family,
I hope you have had a wonderful Passover and a sense of liberation in your life! This Friday night we will have a special Shabbat Passover Service at 7:30 that will be in-person only! Lauren Updegraff will be preparing for her Bat Mitzvah, and co-leading our service with Robin and myself. We will also include special Yizkor memorial prayers to mark the end of the festival.
ZOOM INFO – Important change this week
Our Zoom manager is unable to attend this week, and we need to skip the Zoom portion of our service. We apologize for any inconvenience. Zoom options will resume in May.
SPECIAL YOM HASHOAH PROGRAM AT TBS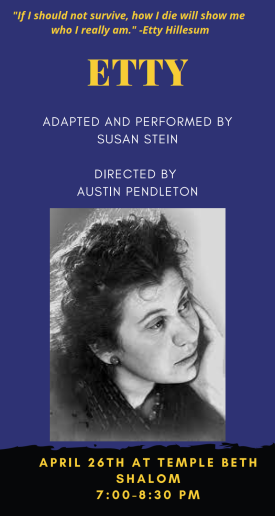 On Tuesday evening, 4/26, at 7 pm, Temple Beth Shalom will host "The Etty Project" which is presented by Western Reserve Academy. The event will feature Susan Stein performing her play Etty as part of the Etty Project. You can learn more about Susan and the Etty Project at EttyProject.org. After the presentation, we will offer memorial prayers for the 6 million who died in the Holocaust. Refreshments will be served. All are welcome to this free event.
SUPPORTING UKRAINE
Please find ways to support folks in Ukraine this week:
Please find ways to research about the Jews in Ukraine as well. The history is fascinating. It's worth noting how TBS assisted the Jews fleeing the former Soviet Union 30 years ago. Our assistance and support will be needed again. I do believe we will be asked to welcome Ukrainian refugees in the coming weeks and months.
UPCOMING TBS GATHERINGS
Fri. 4/22, 7:30 pm: Passover Shabbat Service – in-person only
Tue, 4/26, 7 pm: Special Yom Hashoah Presentation with Western Reserve Academy – in-person only
Sat. 4/30, 9:30 am: Prophets' Class: First Isaiah (chapters 1-39) – Zoom & in-person
Sat. 5/7, 10:00 am: Lauren Updegraff Bat Mitzvah – Zoom and in-person
Fri. 5/13, 7:30 pm: Shabbat Service – Zoom and in-person